Supply Chain Digitalization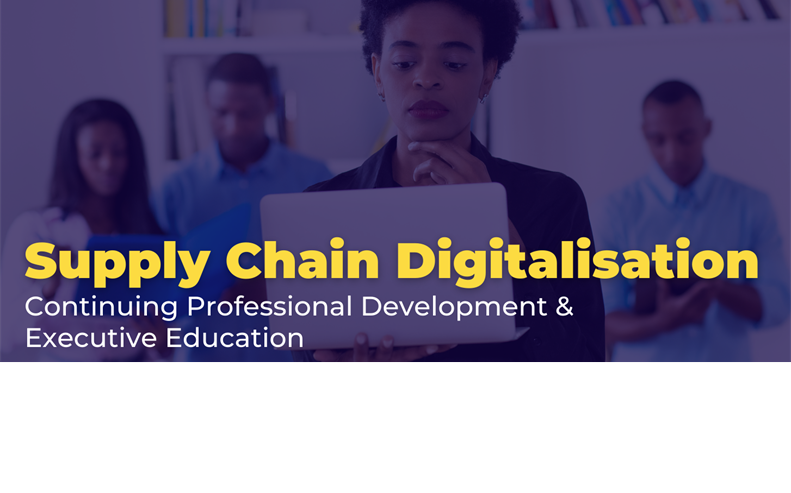 1.    What is Supply Chain Digitalisation
Supply chain digitalisation creates opportunities for connecting disparate systems in the supply chain to enable communication within and across organizations to create a single source of truth for information. Digitized supply chains allow you to accurately visualize your upstream and downstream supply chain activities. They empower your procurement planning and sourcing and enable supply chain and logistics teams to collaborate, automate and effectively leverage data analytics to fulfill customer needs and improve decision making.
2.    What Participants will learn

You will learn about existing and emerging digital technologies used in supply chain management. Participants will explore how to create a digital supply chain network as well as how analytics can be implemented to improve supply chain performance. Finally, participants will learn about how digitalization can be leveraged to enhance supply chain functions.
3.    Who can participate in this training Workshop?

This training workshop is for procurement and supply chain practitioners and professionals working for corporate entities, governmental and non-governmental organizations, including

Procurement and supply managers
Operation/production managers and officers
Finance officers and bankers
Tender committee chairs and members
Warehouse/store managers and supervisors
Transport and distribution managers
Supply chain lecturers, researchers and students
Suppliers and contractors
Officers performing similar roles    
4.    Workshop Details
Dates                                      

Location                    

 Venue

20–21 July, 2022

Accra

Online

In-Person: KAISWAM, Adjiringanor             

Zoom
Your investment in this two-day workshop is GH¢600.00 in- person and GH¢300.00 Zoom. This investment will cover your fees, training materials, a buffet lunch and two snack breaks each day, and a certificate of participation.
6. Registration Deadline

Space is limited!  The registration deadline is 18th July 2022.
7. Questions

Please contact Dr. John Frimpong: 
Call: +233207525237 or +233244961433 
This two-day event will cover the following modules:
Day 1
Day 2
Session 1: Building Blocks of the Digital Supply Chain

Existing digital technologies in perspective

Emerging digital technologies in perspective

Impact of both existing and emerging technologies on supply chain management

Application of these technologies in supply chain management

Module 2:  Digital Supply Chain Network

Linear supply chain network

Digital supply chain network

Digital capability in an enterprise

Module 3: Advanced Analytics in Supply Chain Management

Big data and basics of advanced analytics

Key enablers for building a successful implementation and utilization of analytics

Roadmap for advanced analytics implementation

 

Module  4: Leverage Enablers for Supply Chain Functions

Digital procurement

Faster and smarter supply planning

Logistics and digitalization

Supply chain visibility: Connecting the dots
1. I do not have a supply chain background. Can I sign up for this course?
No. This course is mainly for supply chain practitioners and professionals. However, we recommend you take up some of our supply chain courses for beginners on wp.dev.ksbadesua.net.
2. Who are the target audience for this Course?
The target audience for this course are supply chain practitioners and professionals working for corporate entities as well as  governmental and non-governmental organisations including:
procurement and supply managers;
operation/production managers and officers;
tender committee chairs and members;
warehouse/store managers and supervisors;
transport and distribution managers;
supply chain lecturers, researchers and students;
suppliers and contractors; and
officers performing similar roles
3. What is the mode of payment for this course??
Payment for this course is quite simple. You can easily pay for this course with mobile money or credit card at the checkout page on the registration website. You can also walk in to make payment on the day of training.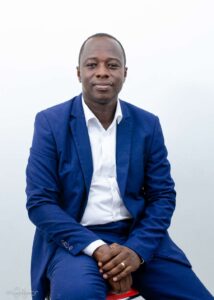 Dr John Serbe Marfo, Senior Technical Advisor for Health, Technology and Innovation, CARISCA
Dr. John Serbe Marfo is a Lecturer at the Department of Supply Chain and Information Systems at the KNUST School of Business. He has a Ph.D. in Information Systems. He is a researcher and a consultant in supply chain digitalization, information systems, health informatics, big data analytics and eLearning. His recent research in supply chain digitalization focuses on drone technology as a logistics tool to improve health care delivery and supply chains. Beyond research, Dr. Marfo has been a lead technology consultant and systems developer for several innovative technology-related projects in various African countries.